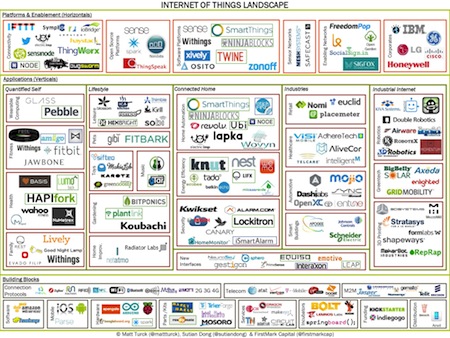 Image courtesy of FirstMark Capital
Are you someone who wonders what machines are behind the emerald curtain of the MESH City (read next-gen Smart City) phenomenon? You are in good company. Most of us do. That sparkling network of new technologies allowing 21C cities to do more with less has earned its generic handle: the Internet of Things. The IoT recently eclipsed some kind of a tipping point with change happening so fast that you need a program to tell who the players are.
In a digital realm spanning from IBM to Zigbee—or Nest to Indiegogo—a good guide is a must if you are to avoid losing your way in the bright glare of interconnected technologies. There is help. Tech Crunch's Matt Turck gives an overview of the growing Internet of Things marketplace detailing who the established players are and who is up and coming.
The IoT will power your car, make your home more responsive, and reduce congestion on your city's streets—without working up a sweat. Do we need to say it is a game-changing initiative? Take a look at Turck's article for a snapshot of where the IoT is today. Keep reading MESH Cities to find out where it will be tomorrow.