The Geodesign Solutions Platform.
Article by Nadia Amoroso
In an increasingly complex, MESHed world, Geographic Information Systems (GIS) are an essential part of the urban planning and design process. Unfortunately, due to their complexity, such systems are typically difficult for designers to use. That's changing. A process called geodesign offers new approaches that unite advanced GIS with city and landscape design in ways never before possible.
Design entrepreneurs are building on geodesign's potential.
Like many innovators in the world of hybrid computing and modelling, Jack Dangermond, the founder and President of Esri Inc, has a background in design. He studied landscape architecture at Harvard's Graduate School of Design. His design roots fuelled a desire to make GIS accessible for landscape architects, architects, planners, and urban designers. For Dangermond, "Geodesign is about integrating geographic knowledge with the spatial design process . . . Design with nature, or geodesign, is our next evolutionary step."
The Geodesign Solutions Platform created by Dangermond's firm incorporates advanced CAD, BIM, and GIS technologies in one system. It combines the sketching and modeling tools designers know with the power of data management, GIS, and high quality rendering engines. Its three major components are:
Geoplanner for ArcGIS is a web-based sketching and mapping tool used for rapid design scenarios. It leverages geo-based data and supports the normal steps of land-based planning and urban design. Those steps include sketching and designing scenarios, design evaluation, site and spatial analysis, and the ability to compare alternative designs.
ArcGIS Pro is a robust desktop application used to quickly render and process geo-data. The software allows users to design and edit concepts in 2D and 3D through multiple view ports. Designers can also perform advanced 3d site studies like wind analysis, shade/ shadow analysis, circulation patterns, density, view-shed analysis. Designers can also add realistic trees, buildings, and infrastructure to their creations.
CityEngine is a 3D modeling software that leverages parametric modeling and geo-based data to create evidence-based city and landscape designs. It is so good at simulations that CityEngine is used in animated films like DreamWork's How to Train a Dragon and Disney's Big Hero 6. CityEngine also allows users to import urban design proposals into an existing urban context. Using parametric and rule procedures, the landscape architect can create, change, and test mass modeling to comply with zoning regulations; test shadow area; create detailed streetscapes; and create quality public realm spaces. It offers intuitive and effective tools for façade and landscape texturing, and also adding landscape elements like differnt tree species. CityEngine is integrated with ArcGIS.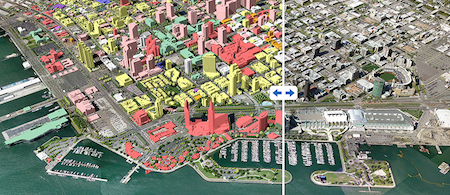 View of the Geodesign Solutions Platform's swipe interface.
Geodesign's creators say that the new technologies infuse design with science and value-based information to help designers, planners, and stakeholders make better decisions. In a time when almost limitless information can overwhelm those responsible for strategic design and planning, tools like these will make their jobs easier. MESH Cities will follow their evolution.
Note:
Esri now hosts an annual Geodesign Summit where landscape architects, architects, academics, urban and transportation planners, and thought leaders in the industry can share their experiences and learn how geodesign is being used to make both smarter cities and sustainable landscapes.
For more information on the GeoDesign Solutions Platform please contact Esri Inc or Nadia Amoroso (na@nadiaamoroso.com), visual representation and mapping consultant, author of The Exposed City: Mapping the Urban Invisibles ;  Representing Landscapes: A Visual Communication of Landscape Architectural Drawings; Digital Landscape Architecture Now.

Showcases GeoPlanner, ArcGIS Pro, CityEngine

http://video.esri.com/watch/4183/geodesign-_and_-aec

Opening Remarks from the 2015 Geodesign conference.

http://video.esri.com/watch/4160/welcome-_and_-opening-remarks