The people involved with MESH Cities spend a lot of time—some say too much time—thinking about how big ideas will change the way we design, build, and live in the cities of tomorrow.
Sometimes we forget that it is often the small, incremental innovations that have the greatest cumulative benefits for, say, energy savings. Here is an example of what we're talking about.
McKinsey & Co. released a study titled, Mobilizing for a Resource Revolution. In that paper the authors mention in passing that the simple and obvious task of just cleaning the fan coils of a typical commercial building's HVAC system will save about 10% in energy consumption. How much energy is that?
The statistics are hard to find, but in a recently study in the European Union by Cardiff University's Ian Knight, the average electrical consumption for a commercial HVAC system is 55 kWh/m²/a. Take all the commercial buildings in the EU and that represents about 5% of the Union's total energy expenditure.
Saving about 5kWh/m²/a (or .5% of the EU's energy costs) just by figuring out a way to clean an HVAC coil is low hanging fruit—to say the least.
So here is our small idea contribution to making cities more energy efficient: Mash up clog-free vacuums with building HVAC systems. It really does make a lot of sense, doesn't it?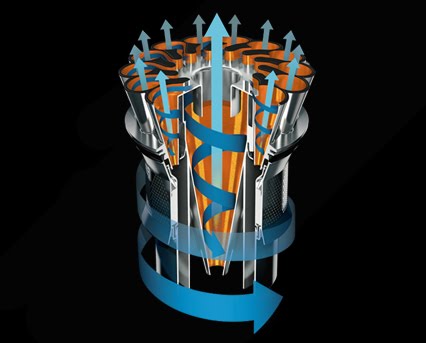 Mr. Dyson, over to you!